St. Jacob's Farmers Market and more!!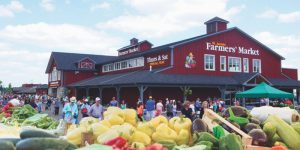 1 DAY
Departure:
THURS. OCTOBER 12 2017
View Flyer

Come and join us on a day trip to St. Jacobs!!! Experience a popular destination within the area with the largest year-round Farmer's Market that offers locally grown fresh produce, meats, vegetables, baked goods, crafts and more to enjoy. After your visit to the Market well head down to Elmira for a delicious Buffet Luncheon at the popular "Crossroads Restaurant". Following lunch, we will head back to St. Jacobs where you will be able to spend the rest of the day browsing the beautiful charming village with its delightful shops, crafts, antiques and more. On departure for home will make a quick stop at Picard's Peanuts!!!
Return time approximately at 5:00:PM