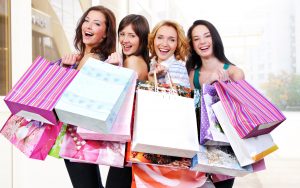 3Days/2 Nights
Departure:
FRIDAY. NOVEMBER 24 2017
Return:
SUNDAY. NOVEMBER 26 2017
Cost:
QUAD $250.00 P.P. TRIPLE $275.00 P.P. DOUBLE $300.00 P.P. SINGLE $400.00 P.P.
View Flyer

ATTRACTIVELY PRICED FOR THE COST-CONSCIOUS SHOPPER!!!
Join us on a fun weekend get-away with Can-ar coach to shop till you drop in Erie PA & Grove city with a fun 3-day tax-free shopping excursion to Pennsylvania.
No sales tax on clothing, shoes and many other items.
Enjoy the ride and plan your shopping while we drive you to the best shopping areas in Pennsylvania. A full day will be spent at the Grove City Outlet Mall on Saturday. Don't forget Pennsylvania is a TAX FREE for clothing. A valid Canadian Passport is required for this tour.
Bring along your friends and enjoy three days of non-stop FUN!